News
Note: All (unless otherwise noted) the news stories on this page are fake, and are intended as jokes. For real news, watch the main page.
4/14/2002
WotC to Release "Whammy!" Trading Card Game
Wizards of the Coast announced today that they intend to release a TCG based on Game Show Network's new original show, "Whammy! The All New Press Your Luck." "We're very excitied about the opportunity with 'Whammy!'," stated organized play coordinator Michael Gills. The basic rules are as follows: Each player plays with a 56-card deck, with a maximum cash total and at least six Whammy cards in the deck. Players compete through two rounds for the highest prize total while tactical cards add to the depth of the game. The first expansion, entitled "The Big Board" will be availible in early May.
8/5/2001
Pokéwatch Collaborates on Compilation Album
Nintendo announced today an intendtion to release a new album, th best of Pokémon. It will be availible on two CDs or one tape (jacket seen here, click for a larger picture). In order to make sure that the songs were truly the best, they enlisted the help of Pokémon web site Pokéwatch. Webmaster Steven Reich stated, "These songs are of the highest caliber. I especially like the CD's CD-ROM features." The album should be in stores next month.
5/24/2001
Janesville High School Endorses Pokémon?
When Janesville, Wisconsin's Craig High School's students received their 2001 Phoenix yearbooks, they were in for a shock. The year book was entitled "The Power of 1," almost identical to "The Power of One," the title of the feature of Pokémon: The Movie 2000. When approached for comment, yearbook supervisor Edward Stried stated, "I thought I heard that title somewhere." A student on the staff said, "The title came from the year 2001." Despite these denials, Pokéwatch will attempt to delve further into the issue.
(All quotes approximate)
Okay, this is another story that is (mostly) true. The title of my high school yearbook is, in fact, "The Power of 1." I'm just glad they didn't call it "Mewtwo Strikes Back."
4/10/2001
WB to gain another video game show
The WB network announced plans today to air a new show, Zero Wing: Series The, this fall. The show, based on the grammatically deficient video game of the same name. A representative stated, "Since the company that made the game went down under, we can do whatever we want with it." When asked who was writing this, he replied, "At first we asked George W. Bush to write it, but apparently he's busy with some high-level government work, so instead we just got a bunch of drunk guys to write it. Same effect."
They also announced a new character, Kitty, to be played by The Wizard's Jenny Lewis. (Click on the poster for a bigger picture)
Image Source: ClassicGaming.com
4/1/2001
Supreme Court Declares Pokéwatch Unconstitutional
In a 5-4 decision today, the U.S. Supreme Court declared popular Pokémon website Pokéwatch unconstitutional, citing freedom of speech issues. The court ruled that the site's mere existence constituted infringement, and therefore must be removed. Pokéwatch's host, VGF, has been given until 12 noon EDT on Monday April 2nd to comply. Timing seems to correspond to the release this letter, which the Bush Administration has sought to suppress.
Pokéwatch staffer Mewtwo, who intercepted the letter, said, "The letter is obviously authentic. Note the bad grammar and misspelling. It even has a made-up word!"
Pokéwatch webmaster Steven Reich added, "Obviously this is a thinly veiled right-wing conspiracy. I mean, the timing really does it."
Pokéwatch intends to comply well in advance of the deadline.
3/13/2001
Pokémon Theme Written by Emily Dickenson 100+ Years Ago
John Loeffler admitted today that 19th century poet Emily Dickenson wrote the original Pokémon theme, not him. Loeffler acquired the poem at auction and used it without any major modifications. "Basically all we did was add the word Pokémon and the choruses," he said. Nintendo could not be reached for comment.
Note: Although this story is obviously false, there is an interesting truth here. You can sing Pokémon Theme (and a lesser extent, Pokémon World) with a Dickenson poem as the lyrics. Also, try this with Amazing Grace and the theme from Gilligan's Island.
2/8/2001
New Pokémon League to Debut Next Week
Turns out football isn't the only sport going extreme. The eXtreme Pokémon League will debut next Wednesday on PIRN, with Misty Williams VS. Ash Ketchum. The XPL will have Mewtwo as commentator, and will feature such rule changes as no Pokémon swaps in the first thirty seconds of play. Outside the battles, listeners can hear Pokémon trainers talk trash to each other. Knowing these two, the actual match could take several hours to start. Plans for an XPTCGL are in the works. Be sure to tune in to PIRN.
12/2/2000
In Shocking Decision, Supreme Court Declares Pikachu President
In an incredible 8-1 decision, the U. S. Supreme court declared Pikachu (Electric Party) the winner in the disputed 2000 presidential election, surprising both sides. In a statement released today, the court stated, "Since both sides seem to be treating this like a game, we had little choice but to declare a video game character President." Additionally, the Supreme Court declared Misty Williams Vice-President.
Misty, as Vice-President, will preside over the evenly divided Senate, deciding all tie votes. Misty's political leanings are not known, but Senator Joseph Lieberman (D-Connecticut) was quoted as saying, "If she leans towards us we will be running very quickly out the door."
Pikachu has already named several cabinet posts: Secretary of State Mewtwo, Secretary of Defense Charizard, Secretary of Agriculture Bulbasaur, and Secretary of The Treasury Squirtle.
The Bush campaign filed a motion to reconsider, claiming that Pikachu is,"neither 35 nor from America." Wait...does that mean this still isn't over?
9/23/2000
Pokémon Spinoff?
You be the judge. (photo sources: Tim's Five-O Fun Page and the Pokémon picture archive)
7/25/2000
Wizards of the Coast to Produce Web Card Set
Wizards of the Coast recently announced it will produce a "World Wide Web" card set, featuring various webmasters and their Pokémon. As a matter of fact, the set features two cards from this site, myself and Mewtwo. Just don't get me confused with that other SER.
6/25/2000
Mr. T is Back!
After his widely hailed performance on Pokémon, Mr. T is scheduled to appear soon in a direct-to-video release entitled Mr. T VS Mewtwo, scheduled for release early next month. Not all is what it appears to be, as the toughest man in the world goes up against the world's strongest Pokémon. As usual, we here at Pokéwatch have the exclusive pictures from the tape. In addition, however, we also have actual recordings from the adventure.
6/8/2000
The Latest Video Game-to-Movie Conversion: Pong?
Today, Warner Bros. made a surprise announcement to commemorate the 1-year anniversary of Pokémon: The First Movie's theatrical release with another conversion, Pong. Pong: The Movie will apparently take place in a futuristic world, where people known as "Pongsters" compete in grand tournaments for millions of dollars. The movie focuses on two such people, played by Tom Hanks and Jeri Ryan (Star Trek: Voyager's Seven of Nine), who have been long-time rivals. The movie is further backed-up by famed "Titanic" director James Cameron. Preceding the movie's release is its soundtrack, which will predominantly feature techno music. No word on an MPAA rating at this point, however (you can see a bigger version of the poster by clicking on the image at left).
3/7/2000
Reform Party nominates Team Rocket
After today's "Super Tuesday" elections, the much-embattled Reform Party nominated Jessie and James of Team Rocket for president. No mention was made of which would be the presidential candidate. Also, no mention was made of their failure to meet the 35-year age requirement, or that their criminal record disqualifies them from holding office. In response, Al Gore announced Pikachu as his running mate.
1/18/2000
Sesame Street Announces New Sponsor
Long known as being sponsored by letters and numbers, the children's show Sesame Street today announced its newest sponsor, é. "We believe that children will be exalted to learn the letter é," a spokesperson for the Children's Television Workshop said. Whatever.
1/8/2000
Porygon Dies, Y2K To Blame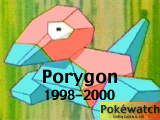 The only known major casualty of the much hyped "Y2K" bug appeared today, after the virtual Pokémon Porygon died. Apparently, when the clock struck 12:00 on the new year, it caused Porygon's code to go into an infinite recursive loop, which used up Porygon's memory until it ran out and crashed, effectively killing it. No comment was made on whether a Y2K-compliant version of Porygon would later be released.
11/30/1999
Mr. T to appear on Pokémon
Mr. T, best known for his role on the A-Team, will make an appearance on an upcoming episode of Pokémon. Additionally, Pokéwatch has obtained exclusive stills from the episode.
11/26/1999
Yet another Pokémon card lawsuit
The Verlerto family, whose son Greg reportedly received a paper cut while handling some Pokémon cards, are suing Wizards of the Coast for $250,000,000, claiming that the cards contain "razor sharp" corners. Wizards of the Coast disputed this claim, saying that the cards in question have rounded corners.
11/16/1999
WB Announces Pokémon Quiz Show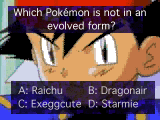 This week, Warner Brothers announced that starting midseason, they will air a new quiz show, "Who Wants to be a Pokémaster?" (picture on left). On the show, players will compete for Pokémon league badges and ultimately a chance to battle the Elite Four. The WB is already expecting a huge audience. The initial show will feature characters from the show, but later episodes will feature kid contestants. Winners will also receive college scholarships.
11/6/1999
Nintendo Announces First Pokémon GBA Game
This week, Nintendo announced its first Pokémon the the Game Boy Advance: Pokémon Black: Team Rocket Edition. Players will play as the evil duo of Jessie and James, their ultimate goal being, of course, to capture Pikachu. The game will also feature an additional fifty Pokémon, one of which, Stickman, is shown here. Nintendo claims that this version will be much harder and have much better graphics and sound. A preliminary release date is set for Spring of 2001, coinciding with the US release of the third Pokémon Movie, Team Rocket's Disco Inferno.
10/29/1999
Cheerleaders Write Tell-All Book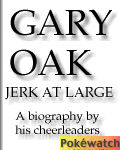 Gary Oak, the Pokémon trainer voted "most in need of a reality check," is now on the receiving end of a new book written by his previously supportive pep squad. The book details everything from his superiority complex to his many exaggerated tales of victory. The authors, reported to have fourth-grade writing skills and a combined IQ of 64, took six months to write the 83-page book, stating it was "very hard" and several complained of broken nails.
Ash Ketchum, a long-time rival of Gary Oak, had this to say: "It took them six months to write this?" Gary Oak could not be reached for comment, but his grandfather, Professor Oak, stated, "why don't people ever write about me?"
9/30/1999
Dentist conspiracy exposed!
This morning, Seattle area Police officers announced the had discovered what was apparently a large conspiracy by local dentists to destroy Nintendo of America, in retaliation for their announcement of Pokémon candy. When one dentist was asked why they did it, since the excess sweets would actually generate more business, she said, "Nintendo's always been anti-dentist! This was the last straw!" and, "I did my best! I have no regrets!" Now where have I heard that before?
9/22/1999
Teaser Trailer Contains Blast from the Past
People who play the Pokémon teaser trailer backwards may notice something odd. Not a satanic message, but it does say what seems like, "don't catch it, ever," and a few seconds later plays a few notes from what seemed like the Mario theme. It also seemed to want to say, "the ogar is only in training."
Note: This is actually true. You see, Quicktime doesn't play the sound backward sample for sample, but plays short segments, each preceding the one before it. I cannot guarantee it will work for you, but to play a Quicktime movie backwards, press control (these are Mac directions) and press the the step backwards button. This will reveal a slider to control speed. You'll have to use your imagination a little (heck, a lot), too.
Nintendo Not Importing Japanese Pokémon 2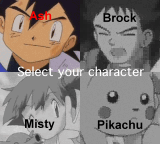 Nintendo has announced today that it will not release the Pokémon 2 that will be released in Japan in the US, calling it, "too hard." Instead, they will use a conversion of a platform game called Doki Doki Panic. Rather than Team Rocket, Ash & Co. will fight a reptile called Wart, who has apparently taken control of a land called Sub-Con. They will also go around throwing vegetables. Although details were scarce, Nintendo did release a picture of the character select screen. Somehow this all seems extremely familiar.
9/2/1999
Pikachu to represent RoUS
RoUS (Rodents of Unusual Size) announced today that they are hiring Pikachu to represent them. At a press conference, Pikachu was quoted as saying, "RoUS have improved greatly since their original appearance in The Princess Bride, and I am here to set the record straight." The conference ended abruptly when a female in the crowd asked Ash Ketchum, who was interpreting for Pikachu, "when are you going to pay me back for my bike?" After that, Ash and Pikachu mysteriously disappeared. The female could not be reached for comment, although it is believed she is from Cerulean City.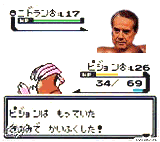 Bob Dole to appear in Pokémon 2
Nintendo of America announced that the famous politician Bob Dole will be featured as a Pokémon in the upcoming Pokémon gold and silver. Players will be able to capture the Kansas native, and use him to fight. Dole will be a normal type, and will know moves like hypnosis, confuse ray, pay day, and haze. Additionally, an extra scene featuring Bob Dole will be added to the upcoming US Pokémon: The First Movie. No word on whether Elizabeth Dole would be offered as a female alternative.
8/28/1999
Nintendo wins award for game naming
The National Academy of Arts and Sciences (NAAS) announced they are giving Nintendo the coveted Making Games With Names Half the General Public Can't Pronounce Right (MGWNHtGPCPR) award. A spokesperson for the NAAS was quoted as saying, "we would very much like to commend them for games including, the Mairio series, Blast Corpse, The Legend of Zelda: The Ohcarina of Time, and Pokiemon." In response to receiving the MGWNHtGPCPR award, Nintendo plans to release a series of ads stating, "Nintendo: Makers of fine games mispronounced by parents everywhere."
8/18/1999
PokéRAP replaces ABCs as most popular U.S. memory song
The results of a nationwide study were released from Northwestern University in Evanston, IL today. In ranked various memory songs. At the top of the list ranked the the PokéRAP, followed by the ABCs, any number of School House Rock songs, and finally just about anything on Sesame Street. The alphabet was not available for comment, but a spokesperson for Sesame Street said, "why are you asking me? I don't sing!" and then went back into his trash can.
8/10/1999
Team Rocket to replace Link in One-Player mode of SSB2
Nintendo announced today that in the sequel to the extremely popular Super Smash Bros., One-Player mode fighters will start off by fighting a one-on-three battle against Team Rocket. Players of the original SSB may remember that the effect used when a fighter is defeated greatly resembles the effect used on Team Rocket in just about every episode of Pokémon.
The game will also feature Team Rocket's infamous introduction speech, but players will be able to skip it using the start button. No word yet as to whether Team Rocket will actually be playable. Also, there is no word on the positioning so the somewhat-suicidal Pikachu.
Jigglypuff hired by United Federation of Planets to combat Borg
Starfleet Command announced today that it has hired Jigglypuff as its new weapon against the Borg threat. The United Federation of Planets (UFoP) has determined that for unknown reasons, putting all the Borg on a cube to sleep results in the destruction of the cube. "Our eventual hope is to have a Jigglypuff stationed on every starship in the fleet," a UFoP spokesperson said. When asked as to whether the Borg could adapt to such an attack, she said, "because the sleeping instinct is at a much more basic level than that of the mechanism by which Borg adapt to weapons fire."
Back to Main